Brimington Surgery has recently become the first GP practice in Chesterfield to achieve the Derbyshire Dignity Award.
The Derbyshire Dignity Award is based on a national 10 point dignity challenge which describes values and actions that all care services should follow. The surgery had to submit a detailed application which showed that all staff respected people's dignity and were treating people with the same dignity and respect that they would want for themselves or their family. This was then assessed by a panel of professionals in the field of health and social care.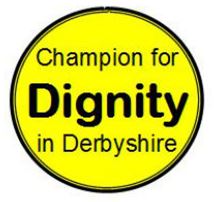 The award was recognised during our recent CQC inspection, for which we received an OUTSTANDING rating in the category for caring. Overall the practice received a rating of GOOD with outstanding areas, including how we care for patients whose circumstances make them vulnerable, for example patients with learning disabilities.
Every month, at an all staff training session, doctors and staff discuss one of the 10 areas of this award and look at how they can further improve, responding to feedback from both patients and staff.
Julie Williamson, Practice Manager, said "This award is the result of a great team effort and recognises the dedication of everyone at the practice in treating all our patients with dignity and respect. We are delighted to be the first practice in the area to achieve this award."
Dr Emma Fordham, Dignity Champion for the practice said "We are extremely proud of this recent award which has been achieved through the commitment and hard work of all of our team at Brimington Surgery. Providing excellent quality of care for our patients is always our focus and we are very pleased that this was highlighted by the CQC inspection team in rating us as outstanding within the 'caring' category. We are very appreciative of the support of our patients during these challenging times in the NHS and for the very positive feedback we received from them during the CQC inspection."
The 10 Point Dignity Challenge (the 10 Dignity Do's) describes values and actions that high quality services that respect people's dignity should follow:
Have a zero tolerance of all forms of abuse
Support people with the same respect you would want for yourself or a member of your family
Treat each person as an individual by offering a personalised service
Enable people to maintain the maximum possible level of independence, choice and control
Listen and support people to express their needs and wants
Respect people's right to privacy
Ensure people feel able to complain without fear of retribution
Engage with family members and carers as care partners
Assist people to maintain confidence and positive self-esteem
Act to alleviate people's loneliness and isolation